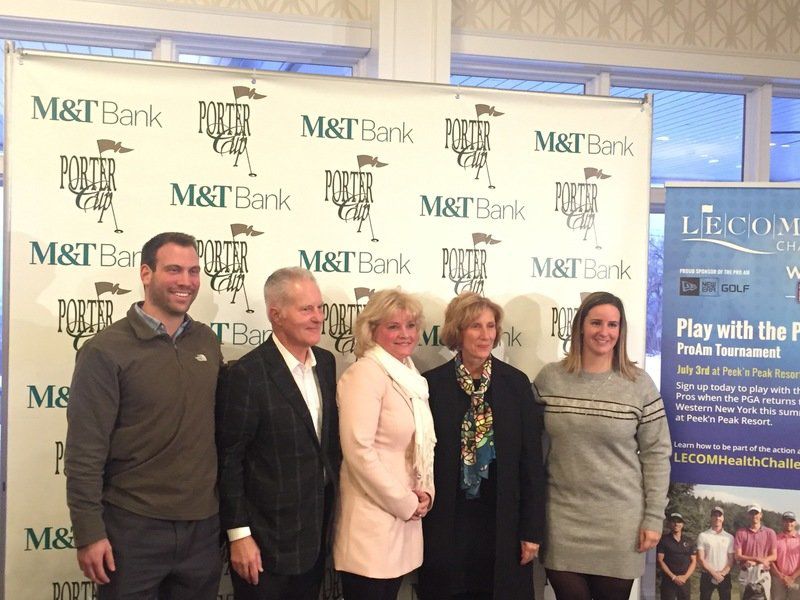 LEWISTON — Representatives from the Porter Cup and the LECOM Health Challenge gathered Thursday at Niagara Falls Country Club to announce a new partnership, effective this year.
The winner of the 2018 Porter Cup will earn an automatic exemption into the 2019 LECOM Health Challenge, a Web.Com Tour event held at Peek n' Peak Resort in Clymer.
"We're thrilled about this announcement and this partnership," said Michelle Turner, LECOM tournament director.
The LECOM Health Challenge is in its third year of a four-year agreement. Turner said after two successful years, she sees potential for the tournament to grow more, and part of that further growth is the partnership.
The Porter Cup winner, and the tournament itself, will get plenty of publicity. The Health Challenge is one of 19 Web.com Tour events that are nationally televised, which will bring a little piece of the Porter Cup into the households of golf fans across the country.
"Three out of every four (PGA Tour) players have started out on the Web.com Tour," Turner said. "Porter Cup has a long standing history of bringing world class amateurs to Western New York."
This is the first time the Porter Cup has tried anything like this, though other top amateur events have similar partnerships.
"We've always spoke of it and always wanted to partner with either the PGA Tour or the Web.com Tour," said Cassie Stein, assistant director of the Porter Cup. "This is the path to the PGA Tour, so it made the most sense to partner with them."
In terms of getting the idea flowing, it was Porter Cup Director Dena Armstrong that led the push. She brought the original conversation to the LECOM directors and the vision turned into something concrete and both Porter Cup and LECOM were able to finalize and make it happen.
And with that, two of the biggest golf tournaments in WNY just got a little bit bigger. Attracting talent from all over the world, playing in the Porter Cup has just added a little more incentive to it.
The 2018 LECOM Health Challenge will be played from July 2-8 at the Peek n' Peak. The Porter Cup will follow shortly thereafter, July 18-21 at Niagara Falls CC.
Follow sports reporter Wynston Wilcox on Twitter @wynstonw_.